Developing leaders who promote gender equality and talent management through inclusive workplace practices.
Athena Rising was named one of the 25 books that everyone should read according to Inc.com and TED Speakers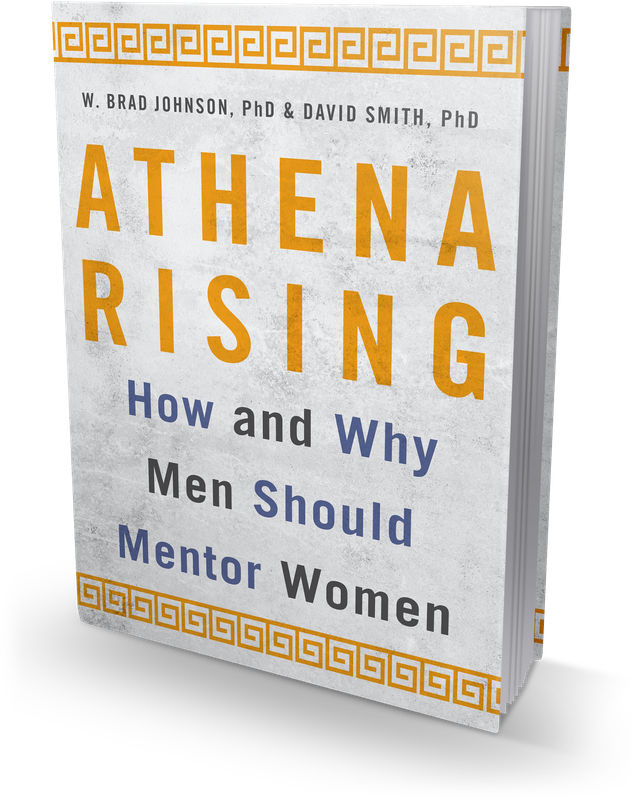 David's recent book with co-author, W. Brad Johnson, PhD
Athena Rising: How and Why Men Should Mentor Women
Increasingly, new employees and junior members of any profession are encouraged—sometimes stridently—to "find a mentor!" Four decades of research reveals that the effects of mentorship can be profound and enduring; strong mentoring relationships have the capacity to transform individuals and entire organizations. Organizations that retain and promote top talent—both female and male—are more likely to thrive.
But the mentoring landscape is unequal. Evidence consistently shows that women face more barriers in securing mentorships than men, and when they do find a mentor, they may reap a narrower range of both career and psychological benefits. Athena Rising is a book for men about how to mentor women deliberately and effectively. It is a straightforward, no-nonsense manual for helping men of all institutions, organizations, and businesses to become excellent mentors to women.
Brad Johnson and David Smith are partnering with Forte Foundation to Show Men How to Mentor Women!
About David
David Smith, PhD, is an Associate Professor of Sociology in the National Security Affairs Department at the United States Naval War College. As a sociologist trained in military sociology and social psychology, he focuses his research in gender, work, and family issues including dual career families, military families, women in the military, and retention of women. Dr. Smith is the author of numerous journal articles and book chapters- many on the topic of gender in the workplace.
CLICK BELOW TO ORDER Athena Rising: